Marry Me, Cowboy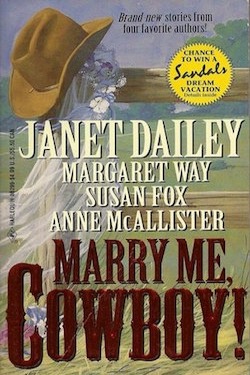 "Hitched in Time"
Janet Dailey, Margaret Way, Susan Fox, and Anne McAllister offer four brand-new stories of romance on the range, featuring tough-talking cowhands and the savvy women who know how to steer them into tying the knot.
Riding High by Janet Dailey
Deke Flanders – He's a cool-headed, long-legged, heart-stopping stunt cowboy who's about to take the hardest fall of his life – for Victoria Thornton, an arrogant actress he'd never even expected to like…
Chance for a Lifetime by Susan Fox
Emmett 'Chance' Lafferty – A man's man. He's a tough-talking, poker-playing, womanizing son of a…rancher. He also happens to adore his orphaned four-year-old niece, Meredith. Unfortunately, he has to share Meredith's guardianship with her aunt, Erin Taylor – a woman Chance does his best to avoid. But Erin has other plans…
Hitched in Time by Anne McAllister
Judson Black – A cowboy, plain and simple. Or maybe it's not so simple…because Judson was a cowboy back in 1878! One night he came into Dodge City, looking for a good time and a little trouble. Next morning, he woke up in the future – and in Sara Jane Jones's bed. Sara Jane needs a temporary fiancé and Judson appears…just in time.
The Man From Southern Cross by Margaret Way
David Mountford – He's handsome, rich, a little cynical about women – and as master of the legendary cattle station Southern Cross, he's one of the most powerful men in the Australian outback. Now he's about to meet his fate…in the person of a beautiful woman with an unusual name – Roishin Grant.