Mistletoe Surprises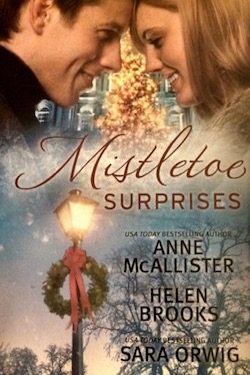 "Breaking the Greek's Rules"
Breaking the Greek's Rule by Anne McAllister
For Daisy Connolly, the heady mixture of a wedding reception, vintage champagne and her blistering chemistry with Alex Antonides led to a spectacular weekend in bed — with unforgettable consequences! But the wickedly sexy Greek was long gone, leaving Daisy with a fractured heart. So when the heartless Alex storms back into her life Daisy is determined to walk away unscathed — she has to. Because she has a five-year-old son he can never find out about! But the Antonides heir can't stay hidden forever. And this Greek tycoon has one non-negotiable rule: Christmas is a time for family.
A Christmas Night to Remember by Helen Brooks
On Christmas Eve, Melody James leaves the hospital to start life anew without her charismatic, powerful husband, Zeke. The injuries that ended her dancing career—and her marriage—may have healed, but her heart is still shattered.Tycoon Zeke fought to be the best, clawing his way from nothing to the very best, and he's going to fight for Melody. He sweeps her off to a stunning London penthouse suite, intent on seduction. All the man who has everything wants for Christmas is his wife—back in his bed! 
Texas Tycoon's Christmas Fiancée by Sara Orwig
Just how far was he willing to go? Dallas tycoon Nick Rafford had to get his black-sheep brother's baby back into the family fold. But the child's beautiful guardian was resistant to his initial offers. Nick could tell that changing Grace's mind would not be easy. He also knew she was not immune to his charms. Yet seduction would only get him so far. The oil mogul had to make the single mom an offer she couldn't refuse….