The Greek Tycoons' Takeover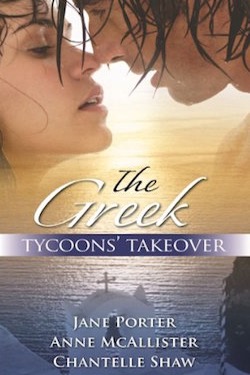 "The Antonides Marriage Deal"
These Greek tycoons are impossible, infuriating – and irresistible! Working for him is challenging! Business just got very personal…
At The Greek Boss's Bidding by Jane Porter
In his power — and out of control!
Impossible, infuriating-and irresistible! Kristian Koumantaros is the most difficult patient Elizabeth's ever met. The arrogant Greek billionaire likes being in control, and isn't adjusting to being temporarily blinded after a helicopter crash.
Alone with Kristian at his luxurious retreat, Elizabeth experiences the full force of his sexual charisma. She knows she'll have to leave! But Kristian will use every weapon he has to entice her to stay and play!
The Antonides Marriage Deal by Anne McAllister 
The Greek tycoon's takeover…
Greek magnate Elias Antonides has single-handedly regained his family's fortune. So when his father gambles away a vital share he's furious! Elias now has a new business partner…stunning heiress Tallie Savas.
The terms of the deal…
Tallie's eager to prove herself, but she hasn't counted on Elias being so sexy. Elias has underestimated Tallie, and now wonders if he can make their business arrangement personal — as in marriage!
The Greek Boss's Bride by Chantelle Shaw 
Will she fill the vacancy of the Greek boss's bride?
Kezia Trevellyn is in love with her boss, Greek tycoon Nik Niarchou. But Nik only sees Kezia as his efficient assistant.
But Kezia's dreams become reality when they begin a passionate affair. Wined, dined and seduced by Nik during long Mediterranean nights, Kezia almost forgets the secret reason why their relationship can't last–until Nik proposes….