Wedlocked!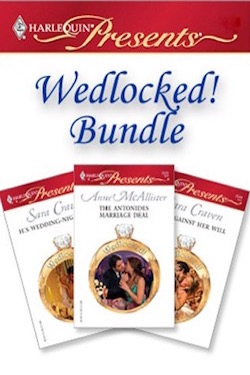 "The Antonides Marriage Deal"
First comes marriage, "then," then love. Enjoy three passionate tales by Sara Craven and Anne McAllister.
His Wedding-Night Heir by Sara Craven
Virginal beauty Cally Maitland has become accustomed to life on the run since fleeing her marriage to British aristocrat Sir Nicholas Tempest.
But Nicholas isn't prepared to let Cally go. He has a harsh ultimatum to deliver: give him their long-overdue wedding night–and provide him with an heir!
The Antonides Marriage Deal by Anne McAllister
Greek magnate Elias Antonides has single-handedly regained his family's fortune. So when his father gambles away a vital share he's furious! Elias now has a new business partner…stunning heiress Tallie Savas.
Tallie's eager to prove herself, but she hasn't counted on Elias being so sexy. Elias has underestimated Tallie, and now wonders if he can make their business arrangement personal — as in marriage!
Wife Against Her Will by Sara Craven
Darcy Langton is stunned when she finds herself engaged to businessman Joel Castille — traded as part of a business merger! While Joel represents everything that she detests in a mate, he's also the most charismatic man she's ever met.
Joel has no intentions of honoring their in-name-only agreement, and away from the boardroom Darcy is unable to resist his sensual persuasions. But when Darcy makes a shocking discovery, Joel must win her back — or risk losing his most valuable asset forever….