The Cowboy's Code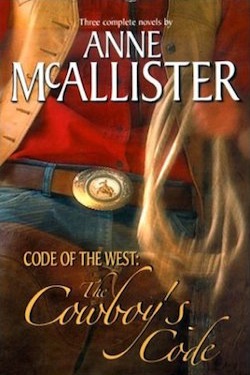 Code of the West Anthology
For years, acclaimed author Anne McAllister has delighted readers with her unforgettable miniseries featuring the proud, strong men who live — and love — by the Code of the West
Cowboys Don't Quit
Reunited with his former ladylove, Luke Tanner proves that Cowboys Don't Quit.
Cowboys Don't Stay
Cowboys Don't Stay was once Noah Tanner's mantra . . . until he discovered he had a daughter! 
The Cowboy and the Kid
The Cowboy and the Kid — that's how single dad Taggart Jones envisioned his future. But his matchmaking offspring wouldn't rest until Taggart was wearing a wedding ring!