O'Driscoll's Heir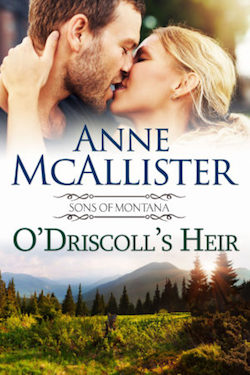 Book 1: Sons of Montana Series
You can take the cowboy out of Montana…
Shea O'Driscoll shook the Montana dust off his boots years ago. No longer a cowboy, he's a successful man with a life about as far from Marietta as a man can get.
When he unexpectedly inherits the legendary O'Driscoll ranch, he's forced to return to Montana temporarily, aiming to sell the ranch and leave again, forever.
But there's more than just a ranch waiting for him in Montana. There are memories, a few good, but mostly bad. And there's Kate, the girl he left behind.
Kate Ybarra isn't the same girl she was. The attraction between them is as powerful as ever. But Shea O'Driscoll broke her heart once. Kate wasn't going to let him do it again.
But when Shea discovers he left behind more than he thought, all bets are off. Will Shea and Kate get another shot at love?