Cowboy Pride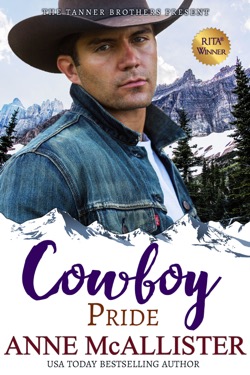 Book 5: Tanner Brothers Series
Coming February 13th!
"Brenna needs a husband," Jed McCall's nephew, Tuck, told him.
Pregnant and alone, Brenna Jamison was back — trying singlehandedly to run her father's ranch.
"We need a wife," Tuck pointed out — because if footloose cowboy Jed didn't do something drastic, he was going to lose custody of the boy. But get married? Jed didn't think so.
"Why not?" Tuck asked.
There were reasons — though only Jed knew them. And marrying Brenna — becoming father to her child — would feel to Jed like jumping from the frying pan into the fire!