In the Spotlight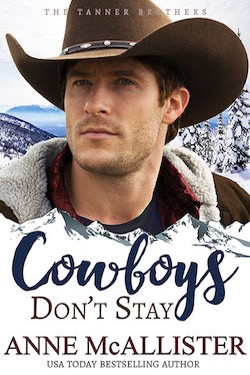 Cowboys Don't Stay
Book 3, The Tanner Brothers Series
Rodeo cowboy Noah Tanner spent his life going down the road. He never stopped. He never stayed –until rehab from an accident stuck him in Laramie, Wyoming over the holidays. So, fine. He'd stay with Tess. Who better to spend Christmas with than the gorgeous nurse who'd patched him up once before?
Once Tess Montgomery had loved Noah. She still had him to thank for her greatest gift — Susannah — the child Noah never knew he had. Then Noah met Susannah, and his world changed.
---
On the Horizon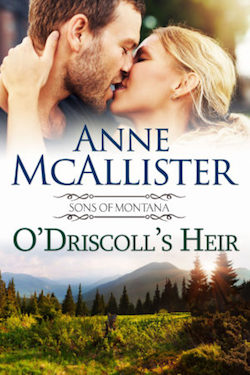 O'Driscoll's Heir
Book 2, Sons of Montana Series
You can take the cowboy out of Montana…
Shea O'Driscoll shook the Montana dust off his boots years ago. No longer a cowboy, he's a successful man with a life about as far from Marietta as a man can get.
When he unexpectedly inherits the legendary O'Driscoll ranch, he's forced to return to Montana temporarily, aiming to sell the ranch and leave again, forever.
But there's more than just a ranch waiting for him in Montana. There are memories, a few good, but mostly bad. And there's Kate Ybarra, the girl he left behind.