Even Better Than Before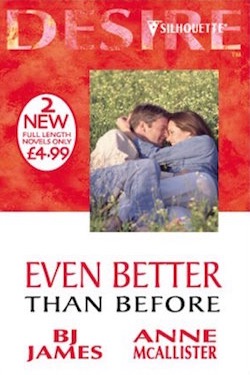 "A Cowboy's Promise"
A Cowboy's Promise by Anne McAllister
Three years ago, in a war zone on the other side of the world, Charlie had loved Cait Blasingame. Still, home and family weren't his style — but getting shot could make a guy change his mind. It could show him the meaning of forever — and send him hunting for what was missing: Cait. A lot had happened in three years. Cait had changed jobs, gone home, and planned to marry another man. But Charlie believed deep down she still loved him. How could he convince Cait that they belonged together — forever?
The Redemption of Jefferson Cade by BJ James
Four years ago, Marissa Alexandre and Jefferson Cade shared sweet passion in the wilds of Belle Terre. But Marissa was promised to another, and she'd left — taking Jefferson's heart with her. Now, the only woman he'd ever loved was in danger. Protecting Marissa from a murderous drug lord proved less challenging than healing the shadows of the past. But Jefferson was determined to rekindle Marissa's ardor…and this time he'd never let her go.