Marry Me … Maybe?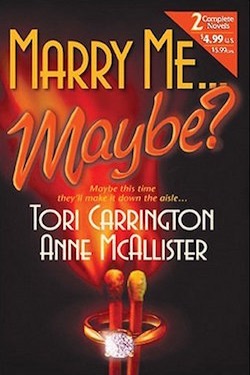 "I Thee Wed"
License to Thrill by Carrington Tori
Sexy-as-sin Marc McCoy, Secret Service agent extraordinaire, has always relished the thrill of the chase. But this is the first time he's ever had to chase a woman. He can't believe Melanie Weber, his former partner and ex-lover, is getting married–and not to him! But little does Melanie guess that Marc's got a plan to get her back–for good. After all, he is licensed to thrill….
I Thee Wed by Anne McAllister
The first time Diane Bauer asked herself how she'd recognize the man she would marry, she accompanied a college friend on a blind date–and met intense young grad student Nick Granatelli. For Diane, a smoldering attraction like theirs had only one fate, one future–marriage. The only hard part, she learned, was convincing her intended. Three years later, fate brings them together again. For Nick, so much has changed. For Diane, the question remains the same. This time, though, it's waiting to be answered… .
Maybe Married by Leigh Michaels
For Dana to guarantee a big promotion, she has to win a huge charity donation from hotshot entrepreneur Zeke Ferris. Unfortunately, Zeke is her ex-husband and could prove awkward! Very awkward, actually. He needs a pretend wife — perhaps they can come to an arrangement…? Dana is wary of the unfinished business between them — not to mention an attraction that refuses to die. Still, it's only a temporary pretense. She can handle living with Zeke for ninety days…. Then Zeke drops a bombshell revelation: they're still legally married!
Reluctant Father by Diana Palmer
Blake Donavan lived alone and liked it that way. His nemesis was love, but he had one obsession-and her name was Meredith Calhoun. After five years, Meredith had come home. A successful author, she was no longer the shy, insecure girl Blake had once so cruelly rejected. But Meredith would never know that that rejection had cost Blake his heart …and the child who should have been theirs.