Starstruck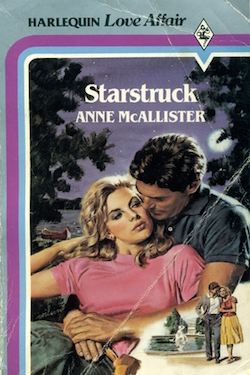 Contemporary Romance
HOW COULD SHE RESIST A MAN WHO ATE HIS PEAS?
Any man who attempted to turn an interview into a seduction, then had the nerve to invite himself to dinner, deserved exactly what he got. Liv James couldn't help feeling that actor Joe Harrington, America's heartthrob, deserved a good dose of reality — Liv's kind of reality. That included a hyperactive rabbit cavorting in the bac of her van, a slightly charred casserole and, of course, the children.
Five of them. If the casserole didn't poison him, the commotion would deafen him …. It must have been the novelty he loved, Liv decided. But as time passed and Joe began to talk of settling in Madison, Liv prayed the novelty would wear off before she got in too deep!